E-NEWSLETTER
February, 2023
This Months Featured Member

Joanie Woods
Joanie and her 2005 Ford Thunderbird
(Click here to learn more about Joanie)


Welcome to Last Month's New Members
Joe Decaro and his '69 Ford Mustang Mach 1


Austin Eaton and his '56 Ford Thunderbird & '65 Ford Mustang 2+2
Craig & Cindy Patterson and their '56 Chevrolet 210 Restomod
( Click here to view updated club roster)


This year's Membership Renewals are due by February 1st so, if you haven't already renewed your membership, click on the link below.
(Click here to review your renewal options)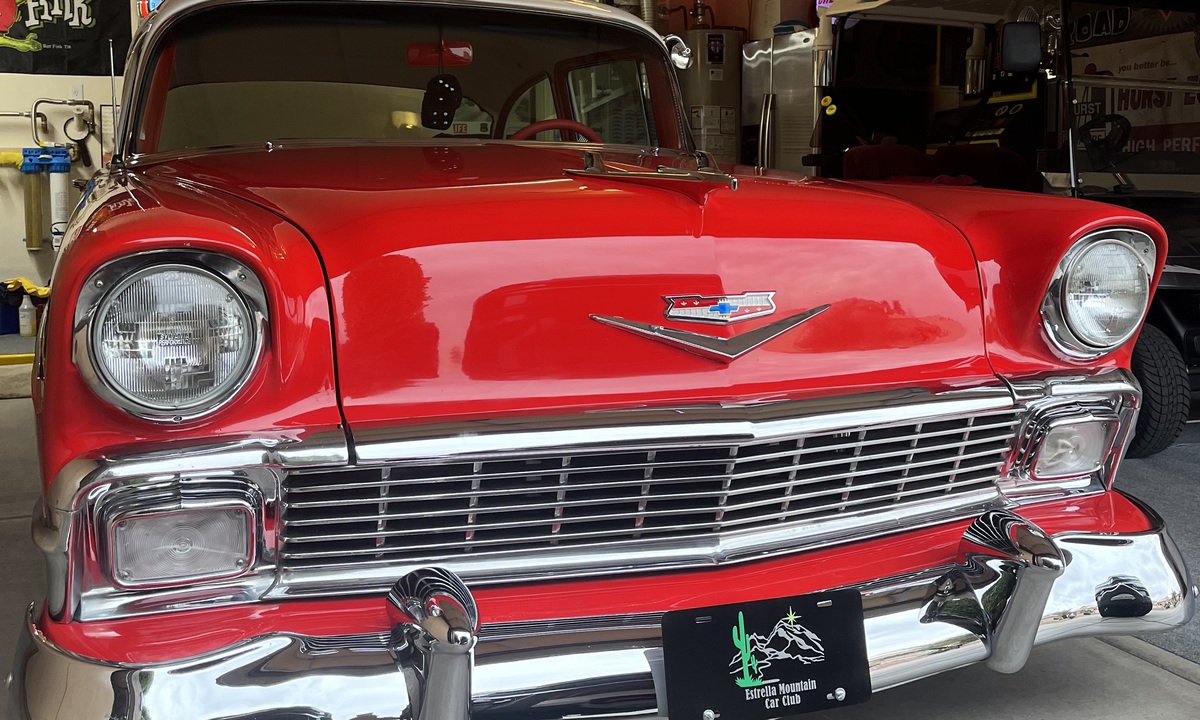 New Member's Craig & Cindy Patterson's '56 Chevrolet 210 Restomod.


(Click here to see what's new with our member's rides)




The Club has made a big change to the

Website's Events Page.



We've added a new application that is designed to improve our communications about events and includes the following key improvements:
Each Event has it's own page that includes:
OPTIONAL RSVP-

We can set up an RSVP if one is needed.
ATTENDANCE - If the RSVP function is turned on it will display the number of members that are attending each event on the summarry pages and a full list of names on the individual event page.
COMMENTS

- Members will have the ability to add comments, ask questions or raise concern about an event that cab be viewed other by others.
VENUE & ORGANIZER INFORMTION - Includes phone number, email and website when this information is provided.
GOOGLE MAPS - A direct link to event's address on google maps.
ADD TO YOUR CALANDER - With a click of button you can add the event to your own calendar.

The followin
g are a list of local events we're submitting for you consideration:
2/4 - Concours on the Hill, Fountain Hills - This show takes place in Fountain Park and raises over $100,000 for the Phoenix Children's Hope Fund.


(Click here for more information about this event)



2/11 - 11th Annual ARC Car Show & Swap Meet, Sun City - This is a big show that the club has attened many times in the past.
( Click here for more information about this event)



2/19 - Cien Motor Werks 3rd Annual Car Show -
Cien's throw a Car Show every year for the Avondale community to come together and enjoy a beautiful Sunday of CARS! There will be a DJ, Food vendors, Raffles, and Plaques! (Click here for more information about this event)


3/3 - 3/5 - 30th Annual Midnight at the Oasis, Yuma
- This is an unique 3 day event that includes assigned parking, some meals and concerts. Several members have attended it in the past and felt it may be worth your consideration.

(

Clic

k here for more information about this event)
3/4 - 6th Annual Spring Fling, Sun City - Event Includes 50's and 60's music, entertainment and raffle prizes.
(Click here for more information about this event)



3/4 - 133th Trilogy Car Show, Vistancia - The West Valley car Club invited our members to participate in this show. Ken has some freinds from that area and they say it's a good event. (Click here for more information for this event)



Here is Jordan's contact information if you have any question about these or other events.




This Month's Scheduled Events
February 11th

February 25th
Barrett - Jackson

Dave Kindig seems to a club favorite.


BUCKEYE DAY PARADE

LUNCH AT THE TACK ROOM

(Click here to view Rich Baricza's Fleetwood Motor Home)
(Click here to view all Forum Postings)
We Value Our Member's Opinions!
Member feedback is strongly encouraged by your leadership team, If you have anything that you would like to share just click on the ind below to get contact information.


(Click here to view list of Officers & Directors)
Estrella Mountain Car Club Foundation
Po. Box 5583, Goodyear, AZ 85338
| | |
| --- | --- |
| Create and share beautiful email templates | |